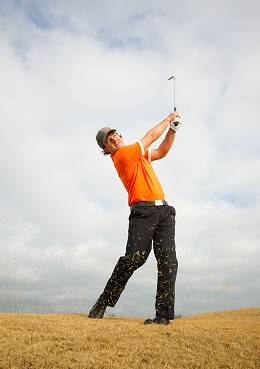 A few days ago, I decided to end my career as a professional golfer. I look back to an interesting and great time where I was able to learn a lot. A new attractive challenge is waiting for me. In March 2015, I will start my job as a General Manager & Director of Golf at Lucerne Golf Club, one of the oldest, most beautiful and prestigious golf course in Switzerland.
As a 14 year old I played my first golf tournament, four years later I was a scratch player and member of the Swiss National Team. The reward for international successes in the US was a scholarship for the Augusta State University, directly bordering the famous Augusta National Golf Course in Georgia. I studied Business Management and was a member of one of the best college golf teams in the US. During my years as a junior, amateur and professional, I was able to represent Switzerland at many European and World Championships (amongst many, to mention in particular a 4th place finish at the World Championship Puerto Rico and a final 3rd place at the European Championships in England). Moreover, I have also captured every Swiss Championship from being junior to professional.
During the last seven years, I played worldwide "on tour". As first ever Swiss, I qualified for the PGA TOUR Canada which is run by the US PGA TOUR, and was able to maintain my card for three consecutive years. During my career, I experienced many wonderful moments but also a few very painful moments when the desired results had not been reached. I gave myself five years of being a professional, in order to reach the desired peak. At the end, it was seven years of golf on tour.
After my performances had stopped improving this year, I decided to start looking for other opportunities within the golf industry, especially in golf management. At some point, one has to face reality, sometimes talent, hard work and strong will is not enough. This change has now happened quicker than expected and with a tear in my eye, I look at the end of my pro golf career but am also excited of what is ahead of me. I am proud that I had the courage to go an unusual way and that I decided to try a job which is often outside the comfort zone. I was a hard worker and reaching my goals had full priority. I was able to achieve many successes but some goals were not reached. Obviously, I am disappointed that all my efforts were not quite enough to fulfill my dream and play on the US PGA TOUR. I will miss the adrenalin when one is playing the last round in contention, or when one is fighting to make the cut on a given Friday. On the other hand, it will be nice to be able to spend more time at home with family and friends.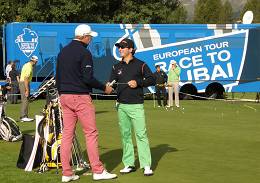 A long the way, I met many interesting people, made friends all over the world, was able to experience many things and played on some of the most beautiful golf courses in the world. Not for a second, I regret to have taken that unusual path and also during the defeats I learned a lot about myself. A big thank you goes to all the people who supported me on my journey, especially to my sponsors. They also supported me during the times when my results did not live up to the expectations. THANK YOU VERY MUCH! Professional golf and all the experiences that come with it, was a great school of life.
For me, it was always important to do other educations and further educations even during my career as a golf professional (degree in golf management, event management and so forth) that now gives me the opportunity to take over a task that will give me a lot of challenge. The pleasant anticipation makes it easier to say goodbye to my so much loved job as a tour player. I will put all my efforts into my new responsibility and use the experiences I made playing competitive golf worldwide. After my last tournaments in the coming weeks, I will complete from October to March the "Senior Golf Manager" higher education studies in Germany and starting in March 2015, I will be ready to start my new job as a General Manager & Director of Golf at Lucerne Golf Club. It is nice to see that the committee of the LGC has confident in me and gives me this great opportunity despite my young age. My goal is to contribute that the members of LGC and guests have a wonderful golf experience. It would be nice, if I could welcome some of you next year or in the near future in beautiful Lucerne, Switzerland.
Golf is and will always be my life!